Ostatnim akordem pięciomiesięcznych transatlantyckich regat Rendez-Vous 2017 Tall Ships Regatta był zlot żaglowców w Hawrze. Francuskie miasto świętowało w ten sposób pięćsetną rocznicę powstania. W widowiskowej paradzie żagli wzięło udział 31 jednostek, na czele z brazylijskim Cisne Branco, rosyjskimi Kruzenszternem, Mirem i Shtandartem, portugalskim Sagresem i plejadą żaglowców francuskich. Przedstawiamy relację fotograficzną z tego wydarzenia.
Czterodniowe spotkanie żaglowców nosiło nazwę Les Grandes Voiles du Havre. Między 31 sierpnia a 3 września przy nabrzeżach Hawru stanęło 11 jednostek, które miały za sobą oceaniczne regaty na trasie między Halifaksem a latarnią Eddystone w południowo-zachodniej Anglii (więcej o tym wyścigu pisaliśmy tutaj). Do tego grona dołączyło 20 innych żaglowców, przybyłych do Francji na zaproszenie organizatorów. Wiele z nich brało wcześniej udział w tegorocznej edycji The Tall Ships Races. W obchodzącym pięćsetlecie istnienia porcie zacumowały wspomniane Kruzensztern, Mir, Shandart, Cisne Branco, Sagres, a także Shabab Oman II, największy francuski żaglowiec – trzymasztowy bark Belem, znany z wizyty w Gdyni w 2014 roku szkuner szkolny Etoile, Santa Maria Manuela, bułgarska Royal Helena, maltański Blue Clipper czy holenderski Morgenster.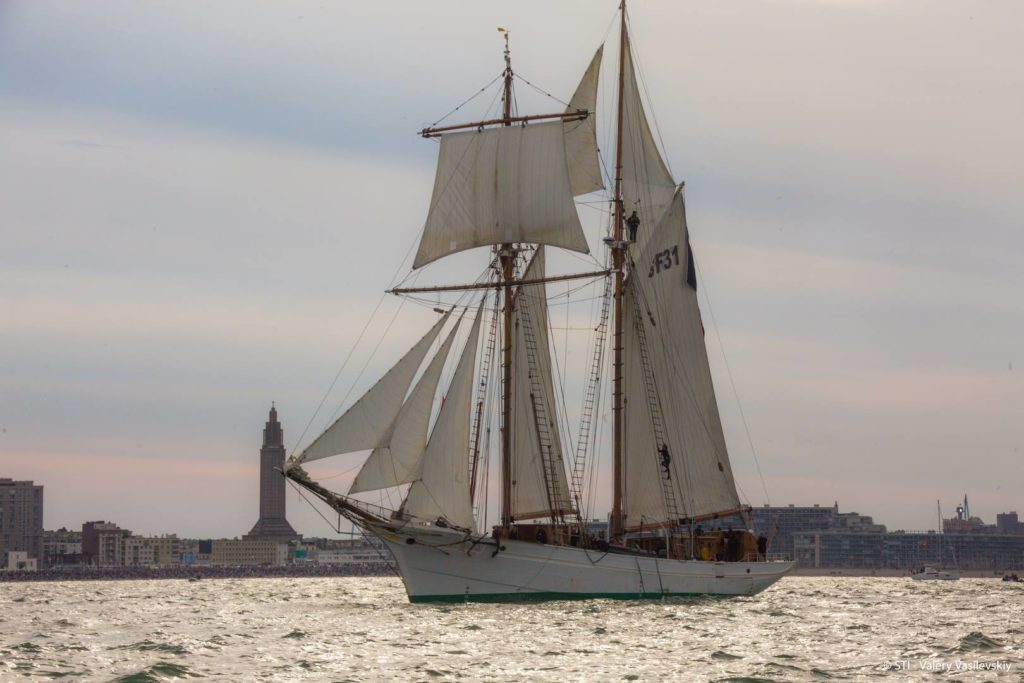 Rocznicowy zlot w Hawrze był jednocześnie finałem Rendez-Vous 2017 Tall Ships Regatta. Organizowany przez Sail Training International cykl regat i festiwali żeglarskich uświetniał 150-lecie proklamowania konfederacji Kanady. Celebrowanie urodzin Kraju Klonowego Liścia rozpoczęło się jeszcze w kwietniu w Londynie, a największe zloty odbyły się w Quebeku, Halifaksie i Bostonie. W stolicy stanu Massachusetts flotyllę żaglowców odwiedziły niemal 4 miliony osób! W międzyczasie rozegrano 5 regatowych etapów, a do pokonania było ponad 7 tysięcy mil morskich. W tej ogromnej transatlantyckiej imprezie ogółem wzięło udział prawie 60 jednostek, jednak tylko 4 z nich uczestniczyły w niej od początku do końca. Większość ograniczyła się do jednego lub kilku wyścigów, a niektóre tylko do pobytów w poszczególnych portach. Warto dodać, że w Rendez-Vous 2017 nie uczestniczył żaden polski żaglowiec. Powód jest oczywisty, a na imię mu… Szczecin. Nie pokazanie się w kraju na finale TSR to dla rodzimej jednostki byłaby plama na honorze.
Krzysztof Romański
4.09.2017 r.
Fotografia w nagłówku: Valery Vasilevsky
Poniżej relacja fotograficzna z Les Grandes Voiles du Havre autorstwa Valerego Vasilevskiego.